James: Lesson 2
Book's Theme and Faith's Response
Read James 1:9-11
–          James tells the rich man to exalt in his humiliation.  What is the source of this humiliation?
–          The poor man is to exalt in his exaltation.  What is the source of his exaltation?
–          So what is James doing when he is directing each away from what he has on his own?
Take-Home Extra Credit: Read Shepherd of Hermas, Book 3, Parable 2 (provided by pastor).  Point to Ponder:  How can the rich and poor help each another by each blessing the other by how God has blessed them?
Read James 1:12
–          What does James say awaits those who "endure trial" and "have stood the test"?  What about those who have not endured?
–          Enduring a trial and withstanding a test are ways that faith can be strengthened?  Why?
Read James 1:13-18
God tests us by putting us in situations that "stretch" us to trust in Him even more (Genesis 22:1).  This is how trials can help strengthen our faith.  Yet, God never tempts us to turn away from Him as Satan does (Matthew 4:1).  James is answering a charge that others were blaming God for their sinning (That's typical of our sinful nature, isn't it?  We blame others for our failings.).  James, instead, states that sin is our own doing; it is conceived when we desire evil and is born when we act on those desires.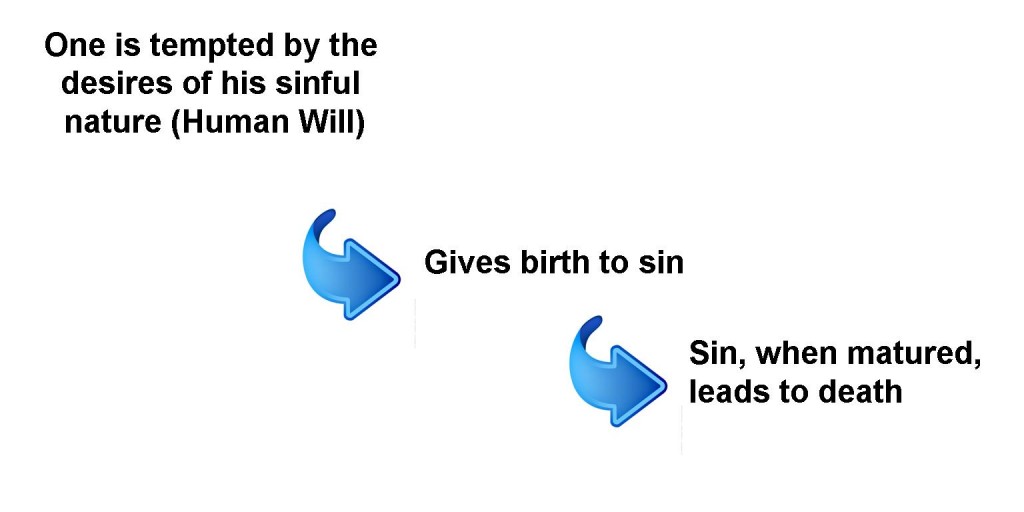 Instead of sin's death spiral, in verse 18, James directs us to God's life spiral.  By God's will, He used the Word of Truth, Jesus, through whom we have spiritual life.  Jesus in His resurrection is "the first fruits of those who have fallen asleep" (1 Corinthians 15:20).  Instead of leading to eternal death, God leads His people to eternal life.

Faith's Response (1:19-27)
Read James 1:19-21
Proverbs 29:20: Do you see a man who is hasty in his words?  There is more hope for a fool than for him.
Sirach 5:11-12: Be quick in listening and in patience make reply.  If you have understanding, answer your neighbor; but if not, put your hand over your mouth.
Proverbs 14:29: Whoever is slow to anger has great understanding, but he who has a hasty temper exalts folly.
After telling the Jewish Christians in diaspora about the life God gives us in Jesus Christ, James then moves on to how faith responds.
–          James is exhorting Christians to:
1.
2.
3.
 –          Why?
In verse 21, James is doing what he did earlier: contrasting the way of death with the way of life.
–          What leads to death?
–          Who or what is the "implanted Word" that leads to life?
Read James 1:22-25
Read Matthew 13:3-8, 19-23
–          Which "soil" is the hearer of the Word?
When James mentions "the perfect law, the law of liberty" in verse 25, he is referring to the Gospel, the Law of the Old Covenant that Jesus has perfectly fulfilled for us (Matthew 5:17-20).  Jesus is the "Word of truth" (vs. 18), and not only the author of the "implanted Word" (vs. 21), but is also that Word, for He is the embodiment of the Gospel.  For the written Word points to Jesus and cannot be separated from the Word made flesh, Jesus Christ.
Read James 1:26-27
In these verses, James is giving examples of how the faith within (or the lack or weakness of faith) shapes what one does.  James is further expounding on the idea of hearers of the Word versus doers of the Word.
Excursus on the Similarity Between James and Jesus
In James, we see Jesus' step-brother echo the teachings of Jesus, especially His "Sermon on the Mount."  Although James never quotes Jesus verbatim, James seems to paraphrase Jesus to get to the core of what He taught. 
James 1:4: Be perfect and complete, lacking in nothing
Matthew 5:48: Be perfect as your heavenly Father is perfect
James 1:5: Ask God, who gives to all men generously
Matthew: 7:7: Ask and it will be given you
James 1:22: Be doers of the word and not hearers only
Matthew 7:24: Every one … who hears these word of mine and does them
James 2:5: God has chosen the poor … to be … heirs of the kingdom
Matthew 5:3: Blessed are the poor in spirit, for theirs is the kingdom of heaven
James 2:13: For judgment is without mercy to one who has shown no mercy
Matthew 5:7: Blessed are the merciful, for they will receive mercy
James 3:18: And the harvest of righteousness is sown … by those who make peace
Matthew 5:9: Blessed are the peacemakers, for they will be called sons of God
James 5:2-3: Garments are moth-eaten … gold and silver have rusted … laid up treasure
Mathew 6:19: Do not lay up for yourselves treasures … where moth and rust destroy
James 5:10: As an example of suffering and patience, take the prophets
Matthew 5:12: So men persecuted the prophets who were before you
James 5:12: Do not swear … but let you yes be yes and your no be no
Matthew 5:34, 37: Do not swear at all … Let what you say be simply "Yes" or "No"
 To go to Lesson 3, click here.