Being More than Beggars, We also Join with the Saints and Angels in Eternity
In our Christian lives, as we journey from the font to the grave, we walk before God the Father as beggars.  But that isn't the full story.  We may be beggars, but we also associate with the holy angels!  In Christ and He in us, we join the multitude of heaven, for Jesus is our go-between to God the Father.
The Apostle John's vision of heaven records giving glory to God around 15 times.  We also join with them, who stand in adoration and joy before God the Father as they glorify Him.  But how do we know this?  We now go back 2,000 years and remember the night of Jesus' birth.
Read Luke 2:8-14
On Christmas night, where do we find the angels worshiping and praising God?
The angels had good reason to tell the shepherds to go and see Jesus.  By His human birth, Jesus bridged the gap between heaven and earth.  "There is one God and one mediator between God and mankind, the man, Christ Jesus" (1 Timothy 2:5).  The connection is Jesus.
Jesus, the Fulfillment of the Temple/Tabernacle
John 1:14: The Word became flesh and lived [tabernacled] among us.  We gazed on his glory—the glory of the One-and-Only, full of grace and truth.
Read John 2:13-21
What does Jesus fulfill and become for us in the New Covenant?
In Christ, What Do We Become?
1 Corinthians 6:19: Don't you know that your body is a temple of the Holy Spirit who is in you, whom you have from God?
After Pentecost, what have our bodies become?
Romans 12:1-2: Offer your bodies as a living sacrifice, holy and pleasing to God, which is your reasonable service.
Because the Old-Covenant Temple is no more, fulfilled by Christ, how are "sacrifices" made by God's people in the New Covenant?
When the Holy Spirit brings us into Christ's Church, we become temples of the Holy Spirit, and by faith we are joined to Christ and have access to God the Father.  That is why St. Paul called Christians "saints," or literally "holy ones."  We are still "sinful and unclean," but through Christ and by baptism, we also become "temples of the Holy Spirit."
Worship Life with God: At First, a Shadow and Copy
Exodus 25:40: [God speaking to Moses,] "See to it that you do [worship] according to the pattern that you were shown on the mountain."
Old-Covenant worship was a "pattern" that God mandated for his people.  Later, concerning the Temple, which replaced the Tabernacle, the Old-Testament Apocrypha, Wisdom 9:8, tells us: "You [God] gave me [Solomon] the command to build a temple on your holy mountain and an altar in the city that is your dwelling place, a copy of your holy tabernacle, which you established from the beginning."
Hebrews 8:5: They [Temple priests] serve at a sanctuary that is a copy and shadow of what is in heaven.
What was Old-Covenant worship a shadow and copy of?
Worship Life with God: Now Joining the Eternal Saints and Angels
But this "pattern," this "copy and shadow," was weak and useless compared to what Jesus would establish in the New Covenant.  "For on the one hand, a former commandment is set aside because of its weakness and uselessness (for the law made nothing perfect); but on the other hand, a better hope is introduced, through which we draw near to God" (Hebrews 7:18-19).  That "better hope" is the New Covenant that Jesus instituted.
Read Hebrews 10:19-22:
Therefore, brothers, since we have confidence to enter the Most Holy Place by the blood of Jesus, by a new and living way he has opened for us through the curtain (that is, His flesh), and since we have a great high priest over the house of God, let us draw near with a true heart in full assurance of faith, our hearts sprinkled clean from an evil conscience and our bodies washed in pure water.
What is the "Most Holy Place," especially considering Jesus has opened it for us through the curtain?
How and when did our hearts become sprinkled clean from an evil conscience and our bodies washed in pure water?
1 Peter 3:21: Corresponding to this [God saving Noah and his family through water], baptism now saves you, not by removing the filth of the flesh, but the appeal of a good conscience toward God through the resurrection of Jesus Christ.
Titus 3:5: God saved us, not because of righteous things we had done, but because of his mercy, through the washing of regeneration and renewal by the Holy Spirit.
Into what then does baptism give us entrance?
Hebrews 12:22-25:
[We] have come to Mount Zion and to the city of the living God, the heavenly Jerusalem, and to innumerable angels in festal gathering, and to the assembly of the Firstborn who are enrolled in heaven, and to God, the judge of all, and to the spirits of the righteous made perfect, and to Jesus, the mediator of a New Covenant, and to the sprinkled blood that speaks a better word than the blood of Abel.
Instead of being a copy and shadow, what happens during New-Covenant worship?
Hebrews tells us we come to "the heavenly Jerusalem" and to "Jesus, the mediator of a new covenant" to the "blood that speaks a better word." When and where do all three come together in New-Covenant worship?
Luke 22:20: In the same way, He [Jesus] also took the cup after supper, saying, "This cup is the New Covenant in my blood…"
In the New Covenant, in our Lord's Supper, we don't have two places of worship, one in heaven and another on earth.  No, in Christ, we join the saints and angels in heaven in their eternal worship of God, with our worship intersecting with theirs.
However, that does not mean that no differences exist in our worship of God.  Unlike the saints and angels in heaven, we are still sinful.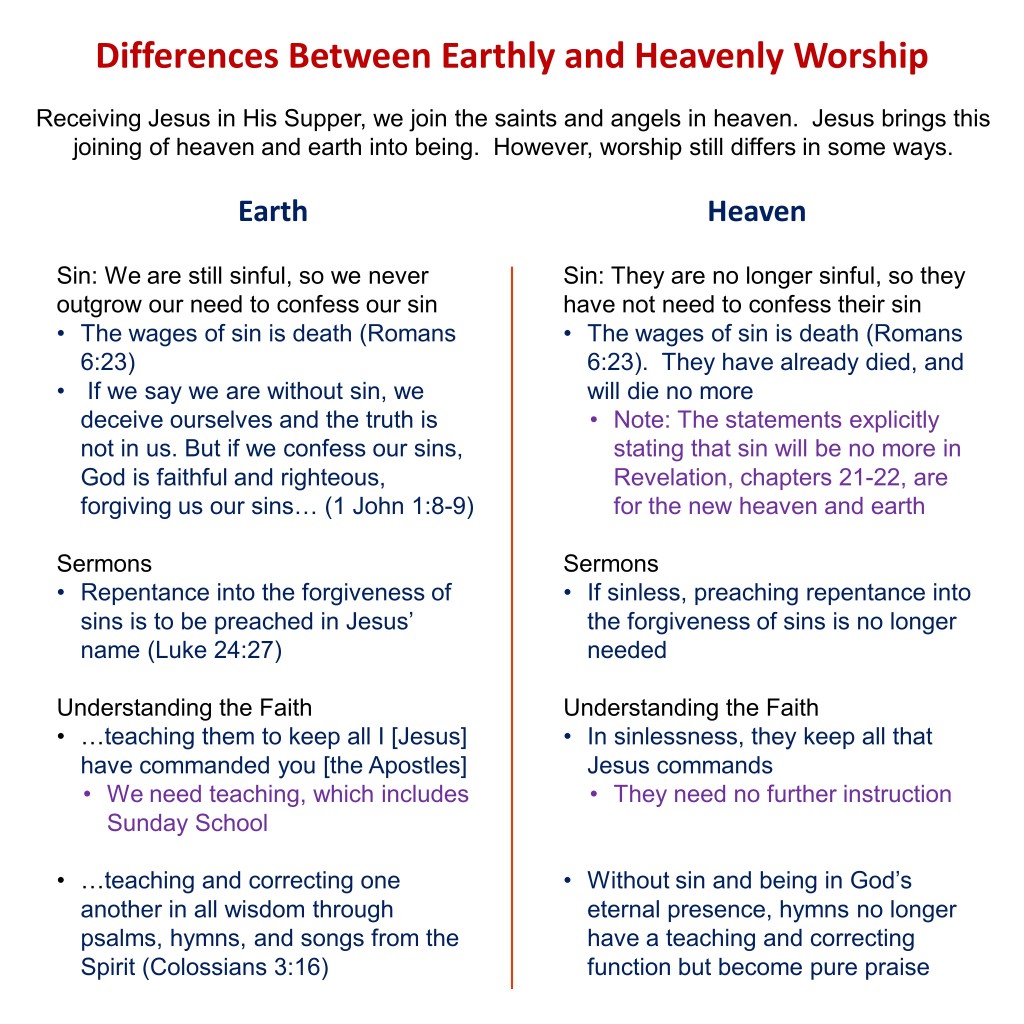 In John's vision of heaven, he records around 15 instances of giving glory to God?  But when it comes to calling out for His mercy, we find no instances of the saints and angels in heaven crying out, "Lord, have mercy."  This also highlights some differences between our worship of God on earth and the heavenly worship of Him.
We, the saints on earth, have a dual status.  As the fallen children of Adam and Eve, we are beggars before God; yet in Christ, we are also holy beggars with a holy status.  In the Holy Spirit, through Christ, we stand with the saints who have died in the faith and with the angels, in the presence of God the Father, having access to His grace.  Enlivened by the Spirit, made one in Christ, we glorify the Father with the multitude of heaven.
We are spiritual beggars, but we are also holy.  Only in Christ, however, do we have such a status, for we are only holy in Him.  Here's the irony: The more we become beggars before God and live by His grace, the more reason we have to join the saints and angels in heaven.