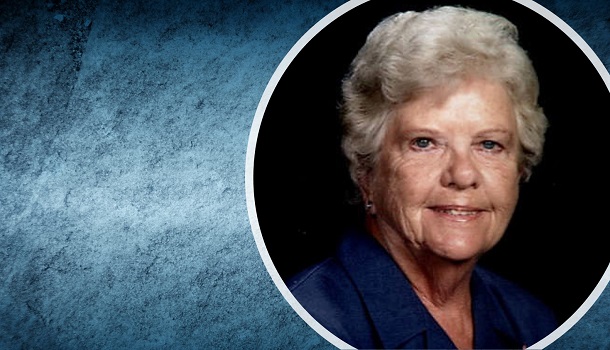 Betty's funeral service will be held at 10:00 a.m. Monday, August 30, 2021, at Shepherd of the Hills Lutheran Church, Kimberling City, Missouri. A graveside service will follow at Pine Crest Cemetery in Lampe, Missouri.
Her obituary:
Betty Jane Krause, 90
Betty passed peacefully August 23, 2021, at Point Lookout Nursing Home & Rehab Center in Hollister, Missouri.
Betty was born April 1, 1931, to her parents, Anton (Tony) and Caroline Navrat in Pilsen, Kansas. She graduated from Lincolnville High School in 1948 and married LeRoy William Krause on October 24, 1949.
Betty was instrumental in initiating the move off the Kansas farm to start a new life in the Ozarks. Her quest might have had something to do with milking cows. Whenever there was a get together, Betty loved to tell everyone about the "big move" from Lincolnville, Kansas, to Lampe, Missouri.
"It was a hot August day when we left the farm in Kansas. LeRoy and Uncle Melvin had both their trucks loaded, LeRoy's being a 1954 Chevrolet 1 ton stake, and Uncle Melvin's truck being a 1950-something International 1 ton loaded with all of our family possessions. My Dad, Tony followed along in his 1956 Chevrolet Belair 4-door sedan."
Betty played a huge role as homemaker and bookkeeper in the success of Krause Construction Co., one of the premier pioneers in the building business around the Table Rock Lake area.
Betty was also a great cook and kept the family fed well. She had a specialty tart she learned to make from her mother. It was a Bohemian tart called Kolaches, a round pastry with a fruit filled center made with prune, apricot, poppy seed, lemon or apple. She also made a German stuffed roll called Bierocks. These tasty gems generally had cooked ground beef and onion inside and didn't last long. Yum!
Betty was a huge fan of Lawrence Welk and his music because he had a German background from the Ukraine and she loved his accordion style polka music. Also, her dad hired Lawrence and his band to play in Pilsen, Kansas, in the late 40's when Lawrence was getting his start. She loved to do the polka with LeRoy, the love of her life. She left the family with quite a portfolio of Lawrence Welk memorabilia.
Betty had a very active church life and was involved in a variety of activities associated with Shepherd of the Hills Lutheran Church, Kimberling City, Missouri. She and LeRoy were also members of the Elks Club in Kimberling City.
Betty had quite a knack for family history and pictures. She left multiple albums loaded with pictures of each of her boys, trips taken over the years, and a variety of other events.
Betty enjoyed volunteering and giving back to the community. She and LeRoy were instrumental in volunteer work and giving to the LUC Boys Ranch in Lampe, Missouri. She was an avid golfer, and loved to plan social gatherings for friends and family. She especially enjoyed visits from her 3 sons and their families. This generally involved entertaining friends and family on their pontoon boat on Table Rock Lake.
She loved to spend time with her 3 boys and grandchildren. If asked, Betty would say, laughingly that her greatest achievement was keeping her 3 sons alive up to adulthood as they grew up on Table Rock Lake.
Betty is survived by her three sons, Brad (Rita) of Ormond Beach, Florida, Alan of Lampe, Missouri, and Jay (Tricia) of Branson West, Missouri; grandchildren, great grandchildren and many nieces and nephews. She was preceded in death by her husband LeRoy, parents Anton (Tony) and Caroline Navrat and three of her four sisters, Bernadine, Irene and Judy.
In lieu of flowers, memorials may be made to Shepherd of the Hills Lutheran Church. Those wishing to sign the guest book may do so online at www.yourtribute.com
Funeral arrangements are under the direction of Stumpff Funeral Home, Kimberling City, Missouri.