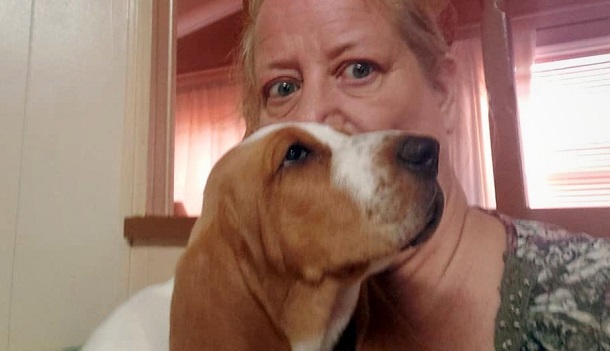 Terri Stevens is the daughter of Kenneth and Patricia (Tompas) Ditillo. Though she was born in Maryland, she moved here 18 years ago, after living in Spring Hill, FL.
She was born on May 1, 1963, and died, for many of us unexpectedly, on September 2, 2020, at 57 years of age. She lived in Kimberling City and served as a local property manager. She also was a member of Shepherd of the Hills Lutheran Church in Kimberling City.
Her Service is Wednesday, September 9, 2020, at 11:00 a.m., at Stumpff Funeral Chapel. The officiating pastor is Richard Futrell, the pastor of her congregation.
Terri loved her pet dogs, and one of them, Brandy, died earlier this year. The picture above is Terri with Walker, a new pup in her household. So, instead of flowers, if you wish to send them, her family asks that you make a donation to the Tri-Lakes Animal Shelter. We know Terri would approve!