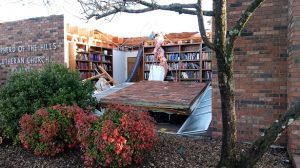 Because of wind damage, Church will meet in the multipurpose building on Dec 2.  The older structure of our facility is still declared unsafe.  All are to enter through the side entrances, not the main front entrance.
Both Sunday School and Service times are unaffected.
The inside of our sanctuary is almost completely unscathed.  We may be able to meet there on Dec 9 and the dates to follow.  We'll keep you posted.