Intro
Last week, we surveyed the Lutheran Church's "lovefest" with Sirach.  Today, we do the same but focus our attention on the New Testament.
In about 195 BC, "Jesus, son of Eleazar, son of Sira," a faithful Jew and renown teacher, commonly called "Sirach," compiled his class lecture notes and reflections.  These would later become one of the Wisdom books of the Bible.
Though written in Hebrew, in 132 BC, the author's grandson translated the text into Greek.  The Hebrew text was lost over the centuries, although significant portions of the Hebrew manuscript were recovered in Cairo, Egypt, Masada, and Qumran, Israel.
The Latin Vulgate translation of the Bible uses the title "Ecclesiasticus," which means the "Church's book."  This title still appears in some translations.
Sirach resembles Proverbs in style and content, including short sayings (proverbs) of two lines in either similar or opposite parallels.  Also, both books use a similar poetic writing style.  As we studied in the Apocrypha book of Wisdom, the personification of Wisdom also appears in Sirach (24:1-34), which both Jesus and the Apostle John used.
Sirach covers many topics.  We find creation, family, friends, honor, manners, dealing with money, sin, the words one speaks, mean dealing with women, and the "heroes of Israel" (chapters 44-50).
Jesus' Use of Sirach
Wisdom Incarnate Who Satisfies our Spiritual Thirst
Jesus adapted Sirach 24:19-22, applying it to Himself—both to identify and distinguish Himself from God's Wisdom written in the Mosaic Law.
Sirach 24:19-22:
19 "Come to me, you who desire me [Wisdom, vs. 1], and eat your fill of my fruits.  20 For the remembrance of me is sweeter than honey, and the inheritance of me sweeter than the honeycomb.  21 Those who eat of me will hunger for more, and those who drink of me will thirst for more.  22 Whoever obeys me will not be put to shame, and those who obey me will not sin."
Sirach summons us to come to God's wisdom and study "the book of the covenant of the Most High God, the Law Moses commanded us as an inheritance for the congregations of Jacob" (Sirach 24:23).  Those who "eat" and "drink of me" (here meaning the Law) will hunger and thirst for more.
Jesus takes Sirach 24:19-23, expecting his hearers to know the text (they were Jews after all) and uses it to contrast Himself, God's Word incarnate, with God's Word in the Law.  Those who eat and drink in the Law will still "hunger and thirst for more."  For the Law say do this, and it is never done.  Not to sin means obeying the Law without misdeed or misstep.
So, Jesus takes this passage and uses it to show how He is its fulfillment.
John 6:35:
Jesus said to them [the Jews still following him after he fed the crowd of 5,000], "I am the bread of life.  The one who comes to me will never hunger, and the one who believes in me will never thirst."
For those who come and believe in Jesus, God's Word made flesh, they will be satisfied and not hunger or thirst.
In Luke 22:19, in His words of institution for His Supper, Jesus said, "Do this in remembrance of me."  Sirach 24:20: "The remembrance of me is sweeter than honey, and the inheritance of me sweeter than the honeycomb."
How does Jesus fulfill Sirach 24:20 in His Supper for us?
Instruction on the Christian Disciplines
Sirach 7:10: "Do not grow weary when you pray; do not neglect to give alms."
Matthew 6:2: "Whenever you give to the poor, don't sound a trumpet before you, as the hypocrites do in the synagogues and on the streets, to be applauded by people. I assure you: They have their reward."
Jesus' disciple would have known Sirach. What do both Sirach and Jesus teach about almsgiving?
How does Jesus expand on Sirach?
Sirach 7:14: "Do not babble in the assembly of the elders, and do not repeat yourself when you pray."
Matthew 6:5-7:
5 "Whenever you pray, you must not be like the hypocrites, because they love to pray standing in the synagogues and on the street corners to be seen by people. I assure you: They have their reward.  6 But when you pray, go into your private room, shut your door, and pray to your Father who is in secret. And your Father who sees in secret will reward you.  7 When you pray, don't babble [Greek batta-logeo] like the Gentiles, since they imagine they will be heard because of their many words [poly-logia]."
How does Jesus clarify and apply the teaching from Sirach?
The Apostle John's Prologue (John 1:1-14) and Sirach
Sirach 24:9: "Before the ages, in the beginning, he created me, and for all the ages I shall not cease to be."
John 1:1: "In the beginning…"
Some will say this entire section of Sirach cannot refer to Jesus because of Sirach 24:9: "he [God] created (Greek, ktizo) me…"  Since God did not create Jesus, this text must refer to someone or something else.  The Greek word for "create," ktizo, however, can also mean "originate from" not only "bring into existence."  Unfortunately, the English word "create" does not come with the same semantic range of meanings as ktizo so the English reader can easily come to this conclusion.  Further, Sirach states this "creation" took place "before all the ages" (Greek: pro tou aionos), which means before time, that is, in eternity.

Unfortunately, the Apocrypha edition of The Lutheran Study Bible understands Sirach 24:9 from the English, not the Greek.  In its notes, it reads: "Wisdom was the workman at God's hand in creation (Pr 8:22-30).  Jesus the son of Sirach made wisdom a limited, created thing rather than the Lord's eternal companion."  This note is incorrect because Proverbs 8:22 in the Septuagint also uses ktizo!  "The Lord created (Greek, ktizo) me at the beginning, for his work."  The Masoretic Text has qanah: get (also "beget"), create, acquire, or buy. So, if Proverbs 8:22 points to "Wisdom [Jesus]" as "the workman at God's hand in creation," then ktizo means "originate from" in both instances.  Indeed, both point to Jesus.
Sirach 24:3: "I came forth from the mouth of the Most High…"
Sirach 24:4: "I dwelt in the highest heavens…"
John 1:1: "…was the Word, and the Word was with God…"
Sirach 24:5-6: "I have made the circuit of the vault of heaven and have walked in the depths of the abyss. In the waves of the sea, in the whole earth, and in every people and nation I have held sway."
John 1:2-3: "He was with God in the beginning. All things were created through him, and apart from him not one thing was created that has been created."
Sirach 24:7-8: "Among all these, I sought a resting place; in whose territory should I abide?"
John 1:9-10: "The true light that gives light to everyone, was coming into the world. He was in the world, and the world was created through him, and yet the world did not recognize him."
Sirach 24:8: "Then the Creator of all things gave me a command, and my Creator chose the place for my tent. He said, 'Make your dwelling in Jacob, and in Israel receive your inheritance.'"
John 1:14: "The Word became flesh and dwelt ["tented," "tabernacled"] among us."
Though each connection between Sirach 24 and John, on its own, may seem tenuous, in total, the unique connecting points are too numerous to ignore.  Beyond coincidence, they show how John understood and pondered on Sirach 24 when he wrote the prologue to his Gospel.
The first point from Sirach identified the Son as God's "Word" (Greek, logos), which is the central theme in John's prologue.  Both Sirach and John treat the Word in the same way, going back to the creation account in Genesis 1 (in the beginning…). Also, both texts go beyond Genesis in the same way.
In Genesis, God's Word is the force of creative speech: God spoke, and something came into being.
For Sirach and John, however, the Word is a person. Sirach does this by speaking in the first person: "I came forth from the mouth of the Most High."  With John: "The Word became flesh."
The second is God's Word "tenting" or "tabernacling" among us. John wrote the Word became flesh and "dwelt" among us (John 1:14). The word translated "dwelt" is the verb form (skenoo) of tabernacle, the place of God's presence among His people.
Sirach spoke of God choosing "the place for my tent [noun, skene]." Then, "Make your dwelling in Jacob [verb, kataskenoo, "according to the tent," but as a verb]…"
James and Sirach
Here's irony: Luther did not care much for the book of James.  This was in large part because of James' use of the Greek word for "justify" [noun, dikiaoo].  Luther believed James taught salvation by a synergy of faith and works. 
In 96 AD, the 4th Bishop of Rome, Clement, used dikiaoo to mean both "declare and make righteous" (Clement 32:4) and "show to be righteous" (Clement 30:3).  Unfortunately, Luther did not have access to Clement's letter.  In the West, a complete manuscript of Clement's work wasn't rediscovered until 1628!  How?  An ancient Bible was presented to King Charles I from the East, which had some additional writings in the back of it, including Clement's letter to Corinth.
Sirach 5:11: "Be swift to hear, but slow to answer."
James 1:19: "Everyone should be quick to listen, slow to speak, and slow to anger."
Why is both Sirach and James both good and godly counsel?
Sirach 5: 13 "Honor and dishonor come from speaking, and a man's tongue may be his downfall."
James 3:10: "From the same mouth come blessing and cursing."
If one does not control his tongue, what may result?
Sirach 15:11-12: "Do not say, 'It was the Lord's doing that I fell away.' For he does not do what he hates.  Do not say, 'It was he who led me astray,' for he does not need the sinful."
James 1: 13: "When tempted, no one should say, 'God is tempting me.' For God cannot be tempted by evil, nor does he tempt anyone."
What topic do both Sirach and James deal with?
What is the answer to both?
Sirach 28:12: "If you blow on a spark, it will flame up; if you spit on it, it will be put out; yet both come out of your mouth."
James 3:5 "Though the tongue is a small part of the body, it can boast of great achievements. Consider how a small flame sets a huge forest ablaze."
What imagery do both Sirach and James use to help us picture the potentially destructive force of our words?
Sirach 29:10: "Lose your silver for the sake of a brother or a friend, and do not let it rust [Greek, hios] under a stone and be lost."
James 5:3: "Your gold and silver are corroded. Their corrosion [Greek, hios] will testify against you and eat your flesh like fire."
Here, the Greek noun in James 5:3, translated as "rust," is found nowhere else in the New Testament.  Sirach 29:10 uses the same word—and the picture of rust corroding unused gold or silver appears nowhere else in the Septuagint or New Testament outside of these two books.  No doubt, James draws on Sirach to make his points.
The Apostle Paul and Sirach
Romans
Romans 12 begins with the "great therefore."  What does it mean that we are justified by faith because of what Jesus does for us?  Not only do we not want to harm others, but we even go further.  Paul makes this point by drawing from the book of Sirach, expanding it further.
Sirach 7:34: "Do not avoid those who weep, but mourn with those who mourn."
Romans 12:15: "Rejoice with those who rejoice; weep with those who weep."
In what way does Paul expand Sirach's teachings?
What are the implications when living out the faith toward others in our lives?
Sirach also used the idea of God's impartiality to show that He cannot be bribed.
Sirach 35:14-15: "Do not offer him a bribe, for he will not accept it; and do not rely on a dishonest sacrifice; for the Lord is the judge, and with him, there is no partiality."
Paul builds on Sirach's use of impartiality and God judging impartially.  Writing to the Gentile Christians, who improperly grace gave them an excuse to sin, Paul used a chiasm to show what awaited those who chose to abuse God's grace.
Romans 2:11: "God does not show partiality."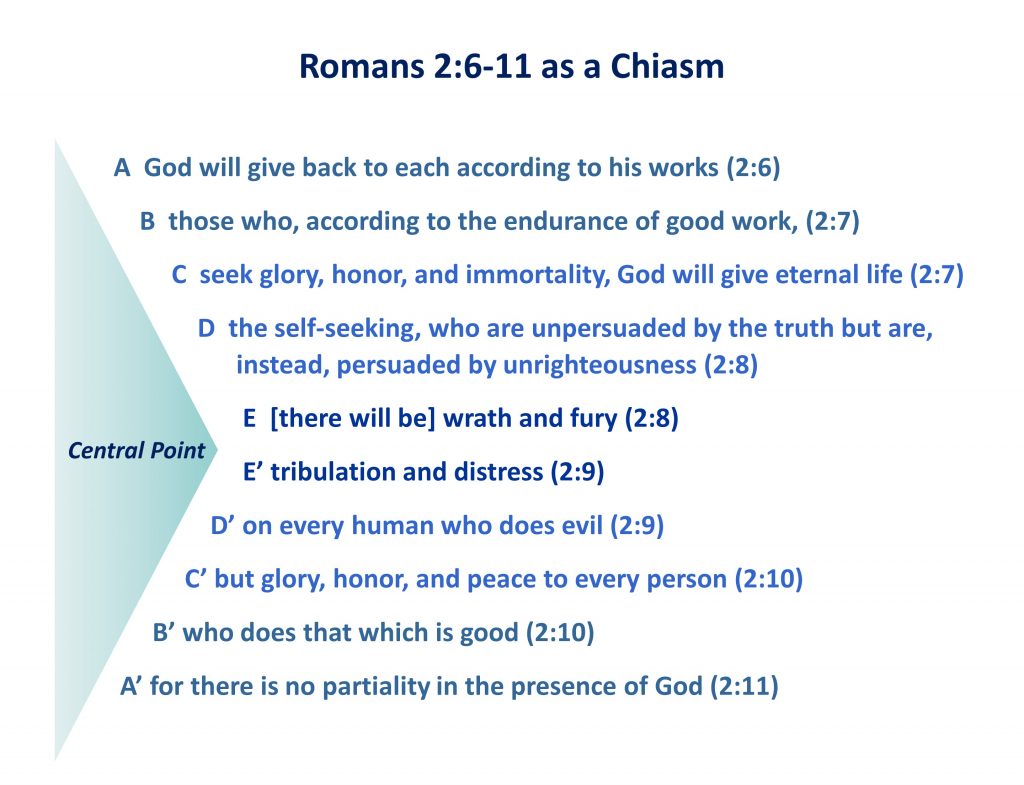 Corinth
The Apostle Paul and Pastor Sosthenes write, "we speak a wisdom among the mature, but not a wisdom of this age, or of the rulers of this age" (1 Corinthians 2:6).
1 Corinthians 2:9: "But as it is written: 'What no eye has seen, no ear has heard, and no human heart has conceived—God has prepared these things for those who love him.'"
Isaiah 64:4: Since ancient times no one has heard, no ear has perceived, no eye has seen any God besides you, who acts on behalf of those who wait for him.
Sirach 1:10: upon all the living according to his gift; he supplied for those who love him.
1 Corinthians draws on both Isaiah and Sirach to emphasize that what God has long prepared in secret he has now revealed by wisdom from the Spirit.
2 Corinthians 9:7: "Each person should do as he has decided in his heart—not reluctantly or out of compulsion since God loves a cheerful giver."
Sirach 35:11: "With every gift show a cheerful face, and dedicate your tithe with gladness."
Proverbs 22:8 [Septuagint only]: "God loves a cheerful man and giver."
Only the Greek-language Old Testament, the Septuagint, contain both verses, which Paul draws on.
Paul mentions God loving a cheerful giver without having to explain why or support why. How does this show the Corinthians Christians were already familiar with this teaching?
In 1 Corinthians 6:12 and 10:23, Paul and Sosthenes adapt a verse from Sirach and applies it to the situation in Corinth.
Sirach 37:28: "For not everything is beneficial for everyone, and no one enjoys everything."
1 Corinthians 6:12: "Everything is permissible for me, but not everything is beneficial."
1 Corinthians 10:23: Everything is permissible, but not everything is beneficial. Everything is permissible, but not everything builds up.
Sirach used this idea to help one struggle against his sins.  1 Corinthians takes Sirach's teaching and applies it to the congregation.
How does the broader application of this idea shape behavior toward other Christians?
Link to the next and last Lesson in this series.